Ensuring your website is accessible to people with visual, auditory, speech, cognitive, and neurological disabilities -- including all of its text, images, video, audio, and even forms and checkboxes -- is good business practice.
According to an article in The Guardian, "4.7 million American adults said they suffered from a disability or illness that made it difficult or impossible for them to use the internet." Increasing your website's reach through accessibility best practices opens your business up to a broader audience. And that makes good business sense.
And according to the World Wide Web Consortium, "case studies show that accessible websites have better search results, reduced maintenance costs, and increased audience reach, among other benefits."
They're also less likely to face an accessibility lawsuit.
What is the law on web accessibility?
Web accessibility law may be a bit murky in North America, but the consequences are clear: if your website isn't accessible to people with disabilities, you could face legal action.
American law on website accessibility has left many businesses open to lawsuits. That's because the Americans with Disabilities Act, passed in 1990, mandates accessibility for consumer-facing businesses but pre-dates the commercial internet, so its applicability to websites has been less than clear and open to interpretation. That has left online businesses like Netflix, and bricks and mortar businesses with e-commerce sites like Target and Disney, open to high-profile and costly lawsuits.
Is your website accessible to people with disabilities?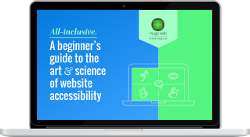 A promised update to the Disabilities Act has been delayed and won't likely be finalized for another year. So it's up to U.S. businesses to take matters into their own hands by following web accessibility best practices.
In Canada, federal government websites have been required to adhere to accessibility standards. In Ontario, legislation currently requires public sector organizations, as well as private companies and non-profits with more than 50 employees, to ensure that any new and significantly refreshed websites as well as content posted after January 1, 2012 conform with Level A Web Content Accessibility Guidelines. Further, all public websites and content posted after January 1, 2012 must meet the Level AA standards by 2021 (with a couple of exceptions -- live captions and pre-recorded audio descriptions).
In the U.K., however, the laws on online accessibility are comprehensive and well defined: the 2010 Equality Act (specifically section 11.8 of the Equality Act 2010 Code of Practice) gives citizens the right to take direct legal action against companies that don't offer websites that meet accessibility standards.
What are web accessibility standards?
The World Wide Web Consortium (WC3), through its Web Accessibility Initiative, has published Web Content Accessibility Guidelines that anyone can use to create accessible websites and address accessibility issues on existing websites.
These standards cover issues ranging from browser settings, to authoring tools, assistive technology like screen readers, content, and evaluation tools for your site.
Making your website accessible can be simple -- or may be more complex depending on the size and complexity of your site. In addition to the most evident factors like text size, video captions, and audio transcripts, here are a few examples of some less obvious but equally important considerations:
Text and background colour: Text, links, and functional design elements should use colours and backgrounds that provide an optimal contrast ratio. This also applies to elements like arrows on slideshows and checkbox toggles. Learn more about accessible design standards. 

Pop-ups and forms: If your site uses pop-up boxes and forms, ensure that they are accessible to screen readers. Without the proper code, they might not be "visible" to assistive technologies. Learn about accessible coding standards.

Titles, headers, and links: Page titles, headers, and links should be descriptive and meaningful to ensure ease of comprehension. Learn more about accessible writing standards.

Keep in mind, too, that all accessibility features must function on mobile devices as well as via standard desktop access.
Next steps to making your website accessible
You can conduct a cursory check of your website's accessibility level with automated tools that evaluate whether your site meets accessibility standards. But keep in mind that these tools won't give you the complete picture, nor will they provide a remediation plan.
If you've determined that you need to take the next step toward website accessibility, consider hiring a professional who can conduct a manual audit and put together a plan for remediation, including recommendations on design, content, and technical solutions.
Ready to make your website accessible? Sign up to receive a copy of our website accessibility guide or contact us anytime for a free consultation.